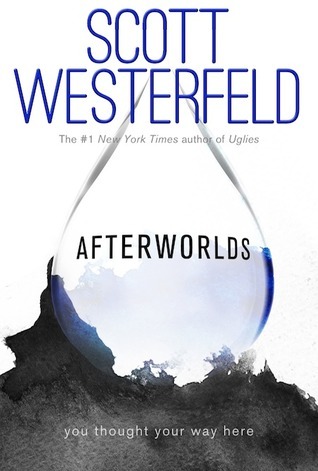 Source: ALA Annual
Publisher: Simon Pulse
Published: Septemeber 23rd 2014
Goodreads
Darcy Patel has put college and everything else on hold to publish her teen novel, Afterworlds. Arriving in New York with no apartment or friends she wonders whether she's made the right decision until she falls in with a crowd of other seasoned and fledgling writers who take her under their wings…

Told in alternating chapters is Darcy's novel, a suspenseful thriller about Lizzie, a teen who slips into the 'Afterworld' to survive a terrorist attack. But the Afterworld is a place between the living and the dead and as Lizzie drifts between our world and that of the Afterworld, she discovers that many unsolved - and terrifying - stories need to be reconciled. And when a new threat resurfaces, Lizzie learns her special gifts may not be enough to protect those she loves and cares about most.
This was my number one top pick at ALA annual this year, and I was very fortunate to be given a copy. The very premise of this book made it automatically a must read from the moment I read the synopsis. This is a book about an 18 year old girl named Darcy who has written a novel, and is in the process of getting it published. This story is told in alternating chapters, showing Darcy as she is publishing it, and then the story she had written. This book is very close to my heart, and always will be.
I'll start by reviewing this book in two sections, starting with the story Darcy has written and is in the works of publishing: Afterworlds. Darcy's novel, the book within a book, is a paranormal story about the after world and ghosts, and other such things. When I began to read this section of the book I started out very interested in the story and plot. This story within the story had a very strong start, but very quickly I realized that it just wasn't my kind of story. Honestly, Darcy's novel is something that I would have expected to read years and years ago, when paranormal romance and the Twilight faze was still going strong. I may have enjoyed it long ago, but now it's something I'm tired of reading about. In the end, when I approached chapters that followed this story, I ended up skimming the text, or just jumping to dialogue because it didn't interest me. It felt like there were large sections of this story missing, like the characters had had time to develop between chapters, and there was some insta-love that I just wasn't all that into. In the end this part of the book just wasn't for me, but I don't really dislike the overall book for the Afterworlds sections of it. It's like I think of the Afterworlds chapters and Darcy's work, not Scott Westerfeld's, so I don't feel like it's something I can criticize the overall book or Westerfeld for, which just adds another, amazing, difficult layer to the story overall.
Now, onto the chapters about Darcy as she publishes the book. This story line was the whole reason why I loved this story. Darcy Patel is living a life I hope to live myself one day (give or take a few details) and it was like Scott Westerfeld had dug around in my hopes and dreams and picked out everything to make the perfect book for me. I am a writer and an aspiring author, and this book was just YA heaven (if you've read the book you'll notice there's a joke there). This is a book that is perfect for people like myself, and many other people who immerse themselves in book blogging, booktubing, and other online book communities where we know lots about the book and publishing industry, so we know a little bit of everything that she's going through, and what all the terminology is and things like that. That beings said, I do think that this is a kind of book that is aimed for people who know how everything works, so it might be a bit harder for some people who are just roaming around a bookstore to understand everything. I really just wish I could have more of this part of the book, because honestly, this book was everything I've ever wanted in a book.
This book is hard to rate, but if I were to rate the sections individually I'd defiantly give the story that Darcy has written, Afterworlds 2/5 stars, and her own story 5/5 stars. Overall though, I'm giving this book 4/5, just because I loved the modern day parts so much.
The story Darcy Writes: 2/5 stars
The story of Darcy's Life: 5/5 stars
Overall: 4/5 stars