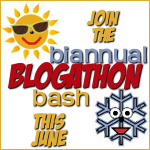 The
Biannual Blogathon Bash
is an event held from June 22nd until June 25th this summer and is created to help participants work on and improve their blog though motivation and challenges that the Blogathon provides.
This year I decided to give it a try, mainly because I have 5 books in the line up to be reviewed (with more on the way) and I need to get a LOT of posts ready. My goal this weekend is to get as many posts ready for the coming few months as I possibly can as well as finish a few challenges and some other things I need to get done on my blog. I 'm not concerned with how long I spend working, I am more concerned about how much I can get done this weekend.
If you are a blogger interested in participating, it's not too late to late to join in the fun! Check out the site in the link above!